Brandon Dixon - Hospitality and Activities Coordinator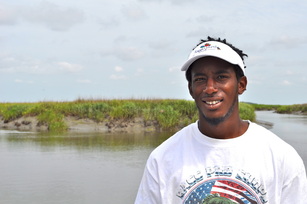 Brandon's close family ties and a love for out-door activities brought him back to Sapelo Island to live and work.

As soon as you arrive on Sapelo, you will see the silver van with the Sapelo Island Birdhouses logo..... and Brandon's smiling, friendly face right there to greet you.

Hospitality, friendliness and graciousness best describe Brandon and the welcome he provides to the Sapelo Island Birdhouses guests.
---
"Welcome to Sapelo"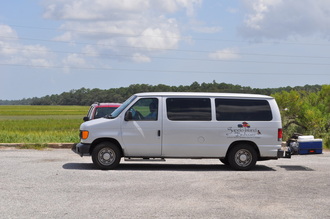 Brandon coordinates our welcome team. He makes sure someone is there waiting for your ferry to arrive. And it's usually Brandon!

He is there with the silver van, ready to welcome you to the island, load your bags and take you to your cottage. Along the way he will tell you all about activities and fun things to do while on the island.
---
Fishing, crabbing, adventure tours
Ask Brandon about what's fun to do on the island. He can help you plan your vacation with just a day of fishing or help you plan a tour out to Grey's Reef.... and anything in-between.... which of course includes catching blue crabs.

Contact Brandon for more information on Sapelo activities: 912-602-4714
---
Developing new skills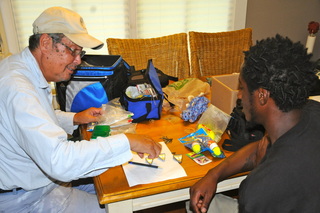 Part of the Sapelo Island Birdhouses Project, we mentor the youth working with us to learn and develop new skills and enhance those they already have. We are pleased to work with young people like Brandon, anxious to learn new skills, grow and develop, and ready to apply what he has learned to make a difference in his life and the Hog Hammock community on Sapelo.

Here he works with Dr. Yoshi and learns about various type of fishing gear.
---