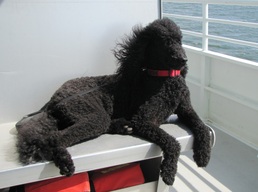 The Birdhouse Cottages are pet friendly!
The cottage owners are animal lovers and you are welcome to bring your dog for a vacation on Sapelo .... they will love it too! There are several guidelines to make traveling with your dog easier and your stay dog friendly and people happy.
Prior approval is required
Dog must be up-to-date on all vaccinations
Three (3) days prior to arrival, treat your dog with Advantage or similar flea and tick repellent,
A one dog limit for all cottages

There is a $60 one time pet fee
The pet fee does not cover any costs for damages caused by your pet
Dog owners are responsible for cleaning up any and all pet refuse around the cottage, the community and the beach
At the beach, keep dogs off the sand dunes
Pets are not allowed on the furniture inside the cottages
When traveling on the ferry to and from Sapelo, you must remain on the boat deck
And... the most important guideline... have fun with your buddy!
There are
twelve rules to follow when bringing your dog to Sapelo
. Please take a look.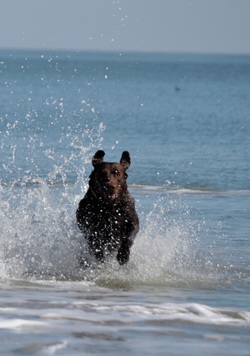 Traveling with your dog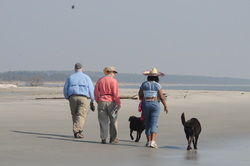 There are many tips and pointers to help you plan a fun and smooth vacation with your dog. Tracey Schowalter, a positive trainer and owner of Puppy Adept in Gainesville, Georgia, has written an article that is sure to help plan a furry fun vacation.
Traveling With Your Dog
is available for download. Also, for more information on working with a trainer to prepare your dog for travel and staying in hotels and cottages, contact Tracey at
Puppy Adept.
---
Dogs on the beach.

Your furry friend will love spending time on the beach. And you will love taking them to enjoy the surf and swim with the waves. However, there are a few things to consider when taking your
dog to the beach.