Our Mission ..... is our passion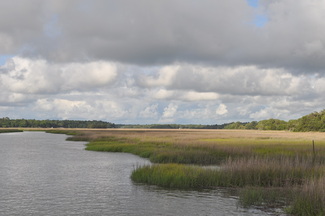 The mission of the Sapelo Island Birdhouses project is to provide synergy in the community of Hog Hammock on Sapelo Island, by providing job opportunities for the youth to learn marketable skills and participate in business partnerships, that will ultimately encourage them to remain on the island. These partnerships are formed between residents of the island and private investors.

After several years of conversations with good friends on Sapelo, Doc Bill and Annita decided to take action instead of continuing to say, "something should be done" to help the proud, industrious people of Sapelo Island keep their community and Geechee culture alive ..... for more than 8 generations this island has been the home of the Sapelo Geechee residents .... and should continue for years to come.

Although Annita and Bill are not from Sapelo Island, Doc Bill is from Edisto Island, SC and is a proud Geechee descendent.

Our goal is to continually find ways to grow the tourism industry on Sapelo, yet do so with a small footprint on a beautiful, natural, pristine, undeveloped Island. Conserving the marine life, clean coastal waters and natural setting is part of our mission, and goal.

The Youtube video below with Adam McKinnon, Education Coordinator with the Sapelo Island National Estuarine Research Reserve, highlights the delicate balance between human needs and preserving the fragile ecosystem.


---