The Wood Stork Cottage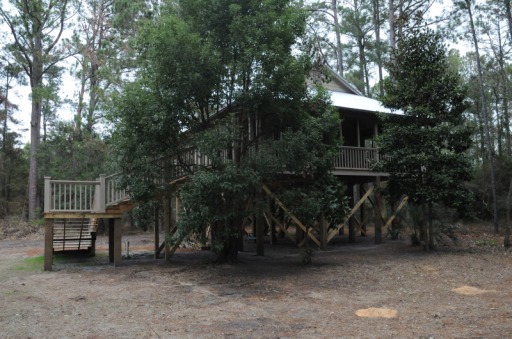 Nestled in the trees, just like a Wood Stork's nest is a cottage in Hog Hammock named, The Wood Stork Cottage. Decorated in brown, blue and turquoise, the Wood Stork Cottage has two bedrooms with pillow top queen beds, a Jack & Jill bath; the cottage is stocked with high thread count sheets and fluffy towels.
The kitchen is fully equipped with everything you need to make a light snack or complete meal.
Rates: $225/night (min. 2 night stay) $1482/week rates do not include 7% state & local taxes or 5% hotel/motel tax.
Golf cart is included in your rental!
One dog is allowed - pet fee is $75
Contact us
via email, telephone or via VRBO: Vrbo#340051
infoplease@sapeloislandbirdhouses.com or 912-223-6515
Guest reviews are below!!!
---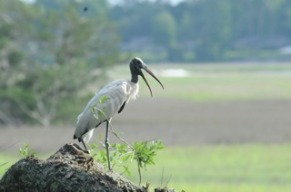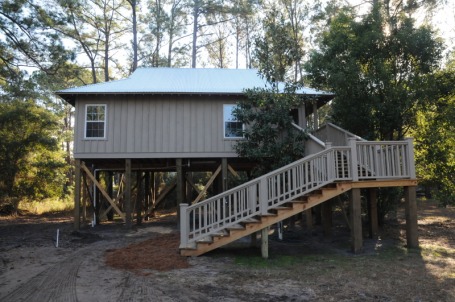 Guest Reviews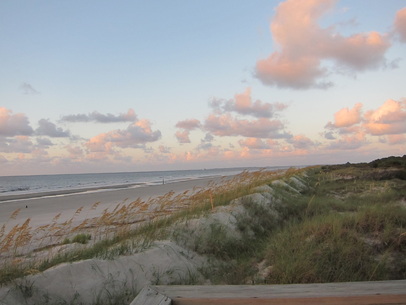 July 22 - 24, 2011
Every year the three of us take a girls weekend. For this trip we chose Sapelo Island. What a great choice! The Woodstork was perfect! Luxury in the middle of an island! Doc Bill, Annita & JR took care of everything we needed. --- Tara

This was a spectacular weekend. We loved exploring the island. So peaceful. So un-distrubed. So beautiful... we have met friends for life in JR, Annita and Doc Bill. You made us feel so welcome and we truly appreciate it. --- Sally

Thanks so much for a wonderful weekend. The accommodations were perfect. Everyone was more than accommodating... we'll be back! --- Regina

July 14 - 19, 2011
Hi, I visited Sapelo Island with my mom, dad, and two sisters. First off, I want to say that the WoodStork cottage was very comfortable, clean, and felt like home! The rooms were chic and beachy cool! The kitchen was equipped with the best appliances and utensils. We brought all our own food and cooked all our own meals. The golf cart was a great way to travel to and from the beach because we could be outside enjoying the scenic views.

We saw lots of deer, birds, and cows that roam freely. And, every islander waved or spoke as we passed by.

Our do, Bodie, really had a blast swimming and chasing the mullet and whiteing that my dad and sister caught either fishing or cast netting. In the end my family and I think Sapelo Island has created many memories that won't be forgotten! And most of all we would like to thank Annita, Bill and JR for taking such good care of us and for being so kind and generous! - Patterson Family

June 20 -26, 2011
We had a wonderful vacation. Every minute has made a lovely memory. The weather was gorgeous, the people friendly and the beach amazing!
We really enjoyed meeting Annita, Bill, JR, Johanna and Dan. We loved our tour around the island with IraGene and just tooling around on the golf cart.
Most peaceful vacation in 26 years of marriage. Peace to all that stay here! P.S. We'll be back! --
Pearce Family

June 14-16, 2011
My husband and I brought our two girls (age 3 & 5) on vacation for the first time by ourselves. Usually there are grandparents to help. We could not have picked a more perfect place. We had a wonderful time. We are already planning our next trip to come back. The people here are so nice. The beaches are wonderful. The only thing I did not like was going home. We will be back.
The Ellington Family

June 10-12, 2011
We had a great time here at Sapelo. This was our first trip and the island is very beautiful. The beaches were great and very peaceful. We would love to come back and bring our children. The food that Mary prepared was excellent. ---- The Harper Family

We had a lovely memorial Day weekend get away. We, as well as our two goldens enjoyed swimming in the beach, golf cart tours and walks along some lovely roads!
We had never been to Sapelo but were very intrigued by the photos, Annita's great insight & information, and the appeal of visiting such a fantastic and unspoiled island.

Mary's meals were so incredible and we visited the local market for some extra items.
Everyone we met was nice. Annita & Bill you're the best!! --- The Kelsey Family

May 8, 2011
Thank you for such a wonderful Mother's Day weekend on Sapelo. The island is beautiful and we were so glad to finally stay on the island. We were lucky enough at JR's recommendation to eat lunch cooked by Francine at Nannygoat beach. It was wonderful. JR was kind enough to take us on a tour and he was the best ..... even called to check on how many fish we caught. --- Harper Family

May 2, 2011
Thank you for a wonderful time. Not only was it a good time to reconnect with childhood friends, but the making of new ones.
Fran, Cornelia, Mary and the SICAR's staff along with Mr. JR are indeed an asset to the island giving it a big island feel, yet maintaining your privacy. Annita we look forward to a long relationship with you.

I saw the ancestors on Field Road. They waved at me. I smiled back. I saw their faces in the residents of Hogg Hammock and I knew I was finally home. Rob is not quite here yet, but I am sure he is on the way. I will not eat seafood again until I return to Sapelo. So I must hurry back. --The Burnett Family

April 22 - 24, 2011
What a wonderful Easter Weekend... it's been here on Sapelo Island! The home is more than comfortable! Scenery - splendid!
The Whiting fish accommodated us just enough to provide dinner last night. It didn't rival Mary Ann's dinner Friday, but good and fresh non the less.
I'm grateful for the time without my cell phone ringing - for sure. Thank you so much for your hospitality. - Deb & Ronnie

April 19, 2011
Thank you for a great Spring Break on Sapelo. The Woodstork Cottage was so comfortable and the food prepared by Mary Ann was delicious! We loved staying on the island that we have always enjoyed visiting as day trippers. We will be back as soon as possible. --- The Schneider Family

March 30, 2011
Thank you for a wonderful stay! We all had such a relaxing and enjoyable time discovering Sapelo for the first time. We will be back! We especially loved running into a massive family of wild hogs, catching sheep head fish, and Cabretta Beach. Quinn loved getting Hershey bars at the little store in the afternoons. Lastly, the local people were lovely too. Thank you.
The McDonald Family.

March 16, 2011
We enjoyed our stay at the Woodstork Cottage! It was very nice, comfortable and relaxing. It was a pleasure meeting some of the lovely people in the community. The beach was beautiful.
Schnider Family

March 9, 2011
Thank you so much for having us. We had a very relaxing visit and look forward to coming back.Burnes Family

February 16-18, 2011
We are so pleased to be your first renters. This is a beautiful home on a beautiful island. Thank you for having us. We'll be back!! ---- Norman Family


---